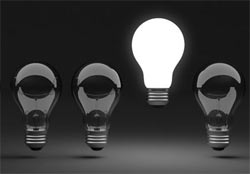 The Law Office of Manuel de la Cerra is dedicated to just that - protecting your intellectual property. Mr. de la Cerra has several years of experience counseling clients in a variety of intellectual property matters, including developing IP strategies, obtaining patents and trademarks, licensing, and litigation abatement. Mr. de la Cerra is a registered patent attorney licensed by the United States Patent and Trademark Office, and by the California and Massachusetts state bars. Mr. de la Cerra is also an inventor.

His experience working in internationally recognized law firms and as corporate patent counsel for a large electronics corporation gives him a well-rounded view of intellectual property, which combined with his technical education from M.I.T., Stanford and UCSD, provides his clients a unique set of skills in management, business and technology, as well as the law. Ultimately, he strives to provide his clients with cost-effective, first-rate legal representation. Learn more about Manuel.
Testimonials
Manny stepped in to help us with our patent portfolio after we became dissatisfied with our previous legal representation. He hit the ground running and has been able to obtain several issued patents on much of our portfolio, all at a very reasonable expense. Manny also defended our flagship patent in re-examination, with spectacular results – a complete confirmation of the validity of all patent claims. His expertise and responsiveness is unparalleled and very much appreciated.
We were in a classic David vs. Goliath situation with a litigious attorney turned patent troll complete with big firm representation alleging patent infringement. Undaunted, Manny provided multiple strategies. Due to Manny's brilliant strategies, AWM has prevailed in every milestone of the case. Efficient and focused, his low key demeanor belies the intensity he brings to bear. AWM can't say enough.
Mr. de la Cerra has represented Touchdown technologies for the past five years, and in that time he has built a sizable patent portfolio in semiconductor probe card design. Mr. de la Cerra quickly embraced and understood our technology, which has been critical to his success in obtaining several issued patents. His knowledge regarding our technology is spot on, so he's able to provide top notch representation without wasting valuable time and money. He is very responsive and has consistently provided my company with excellent work product. I would highly recommend him in anything related to intellectual property matters.
Prev
Next